QUINTESSENTIAL LAUNCESTON
What other city has a spectacular gorge of monumental proportions and breathtaking wonder, just a few minutes walk from the city centre? Well, nowhere but Launceston, as far as we know. And not only Cataract Gorge itself, but an impressive suspension bridge, cafes and special activities connected to this remarkable natural site.
Tasmania's second biggest city, Launceston is ideally nestled at the head of the beautiful Tamar Valley. The pretty port, around which the city has grown, has a fascinating history and a vibrant modern day culture. Within Launceston, we recommend a wander of the streets in the compact centre to give a real feel for the colonial settlement it once was.
HISTORY IN A SNAPSHOT
Before Launceston was settled in 1806 by colonial new arrivals, the area was the living place of the Palawa people, (Tasmanian Aboriginal people) for the past 40,000 years. The Palawa people lived in harmony with the land throughout Tasmania. An essential place to explore when in Launceston is the Queen Victoria Museum and Art Gallery. Here you will see a full spectrum of art, history and culture - with fun activities for that bring the history alive.
EAT, DRINK, BE MERRY
Launceston, like the rest of Tasmania, has developed a well-deserved reputation for great wine, excellent food from the local surrounds, and a buzzing vibe in which to enjoy all these good things.
Cool climate vineyards in the Tamar Valley, the Northern Tasmania wine region surrounding Launceston, are known for their Chardonnay, Riesling, Sauvignon Blanc, Pinot Noir, Cabernet Sauvignon and Merlot. The Tamar Valley Wine Route has wonderfully captured the best offerings of the region and made it easy to access and enjoy.
Stop for tastings, enjoy a vineyard lunch, take home bottles based on your careful sampling or have them shipped back home for when you arrive.
If beer is your tipple, why not try the famous James Boags Brewery tour? Sample beer, hear about the brewing process and get amongst it all to really understand where the glorious, amber liquid comes from and how it arrives in its splendid form in your glass. They started way back in 1881 and still insist on using crystal clear Tasmanian water in the brewing process, as well as the best quality hops and barley.
You'll need to eat, of course. To feast on the locally produced fare that is so well represented in Launceston restaurants is a real treat. As well as dining in, the market is a must for food lovers to explore. Launceston's Community Farmers' Market is every Saturday morning from 8.30am-12.30pm in the Cimitiere Street car park. It's great to note that the market sells only food and beverages grown and produced in Tasmania and is run within Australian Farmers' Market Association Guidelines (AFMA) guidelines. Take a basket to fill with artisanal products, meats, cheeses, bread, local wine, cider and beer. Don't miss the fresh fruit and vegetables of this cool climate region with its beautifully defined seasons.
It's well worth a browse on the Internet to find the restaurants, bars and cafes that most catch your eye but here are a few to get you started:
Stillwater – Check their site for information about the now famous, Tasmanian truffles over the winter too!
How about a vineyard lunch at Josef Chromy? The award winning cellar door and restaurant in beautiful surrounds is a pretty good place to spend an afternoon.
Chasing the magic beans? The marvelous Bean Hunter site has the low down on best the best places to get a coffee in Launceston. Wander the pretty streets, with your cafe-radar on to find your favourite places for morning treats and lunches during your stay.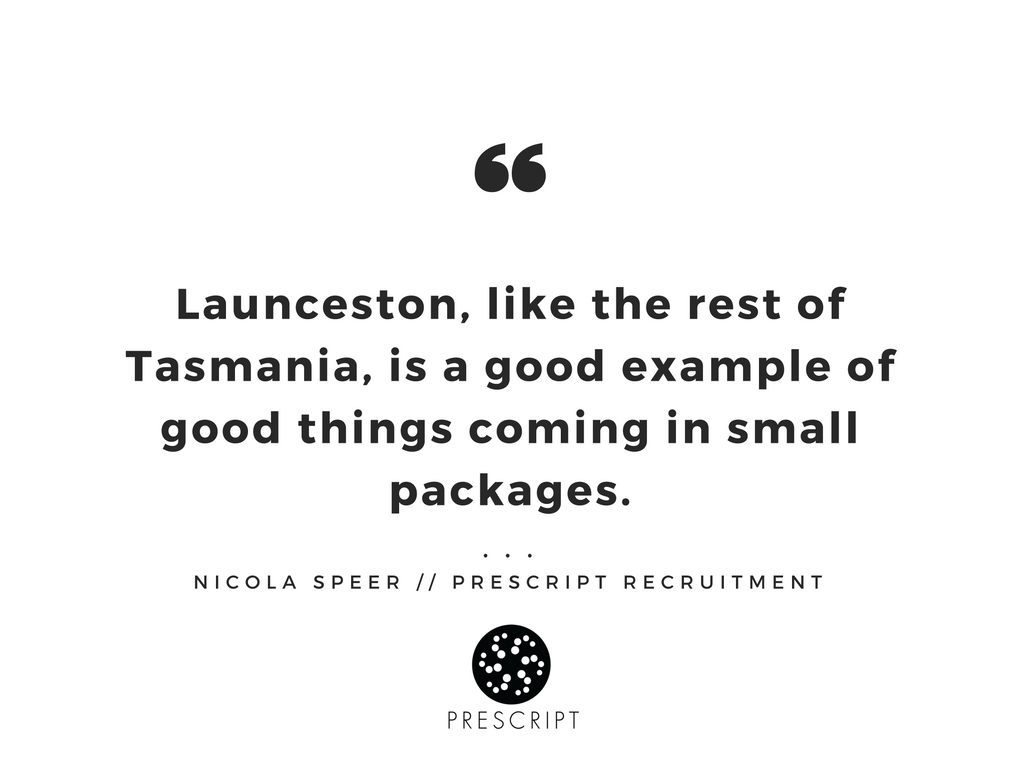 SO MUCH MORE TO SEE AND DO, AND TASTE
One of the best websites to browse for specifics on Launceston events, places to visit, history and natural landmarks is the Festivale site which incidentally, also contains all you need to know about the annual festival in February that draws the crowds and brings the city and region into full swing.
The region's natural beauty is truly staggering and it's well worth setting aside some quality time to really explore whether it's national park day walks, or longer hikes into the mountains; a road trip along the rugged, beautiful coastlines in either direction from Launceston itself; a trip out in a boat on the sea, or up the Tamar River, its all there to savour.
Launceston, like the rest of Tasmania, is a good example of good things coming in small packages. Not to be underestimated – definitely dedicate enough time to really slow down, wander, explore, indulge and relax.
Here are some more links about places we've mentioned above, that you might enjoy browsing:
About Nicola Speer
Nicola Speer is Prescript's Senior Recruitment Partner for Radiology with a focus on locum and permanent positions across Australia, New Zealand and globally.
Nicola is very happy to answer your questions.
There are three ways to contact Nicola:
Call Nicola on +61 405 429 799

Email nicola@prescript.com.au

Click 'Candidate Contact' to ask a question online (with the option to upload your CV)
At Prescript we're known for helping solve the regional doctor shortage in Australia.
Every day we're focused on two clear outcomes - Helping hospitals find doctors that create departments and clinics that run better, have more capacity and less stress. And placing Doctors in jobs that leave them feeling highly valued, rewarded and, most importantly, enjoying what they do.
We believe that when we get these two crucial things right, it has a huge impact on the regional doctor shortage and the healthcare of communities across Australia.
There are three ways to contact us:
Call 1300 755 498

Email contact@prescript.com.au

Click 'Connect with Prescript' to ask a question online (with option to upload your CV)
We'd love to hear from you!